Senke electronic sign in system makes the management of the activity site easier!
16,October,2019
For an offline activity, the check-in process often consumes a lot of manpower, while the Senke electronic check-in system can save a lot of manpower cost for the check-in process, and make the whole check-in process complete quickly and conveniently, so that participants can enter the site without waiting too long.
The check-in function is divided into "3D check-in" and "check-in". The visual effect of 3D check-in will be more three-dimensional, and there are multiple backgrounds to choose from.
(3D sign in entry interface)
Guests can sign and write their names on the touch screen, without paper and pen, touch and write, bringing a better interactive experience.
(3D sign in touch handwriting)
There is a function bar at the bottom of the screen, guests can choose their own writing effect: brush, pen, fluorescent pen, rich in color, also can be customized.
(3D sign in function bar)
After all the guests sign in, they can set the signatures of the participants on the large screen.

(3D check-in auto Carousel)
There is another check-in mode. Although there is no 3D effect, it has more functions.
(standard sign in mode)
Guests can take photos, sign their own photos, and record voice blessings.
(photo signature function of standard sign in)
There is a function bar on the right side of the screen. You can also select writing effect, change background picture frame, etc.
(function bar of standard check-in)
After signing in, there are two ways to display the signature, namely "post at will" and "album wall", which are also selected on the homepage.
(select a display method on the homepage)
Random posting is a random way of presentation. Every time the position and order are completely random and disordered. It is more suitable for activities with a large number of people and can give people the feeling of "full of activities".
(if the number of people is small, it seems pitiful to post at will.)
Album wall is a relatively neat way to show, suitable for moderate number of activities, each signature can be displayed, will not be blocked by other signatures.
(ordered photo album wall)
After the check-in, you can also connect the printer to print out the signatures of the guests as a souvenir.
(select signature print in print wall)
The lottery button is also on the home page, next to the check-in.
(lottery function)
The first key starts to draw prizes. There are many prizes in the draw, including first prize, second prize and third prize, as well as lucky prize and special prize. The wrong draw can be cancelled to avoid misoperation.
You can also set to automatically play the voice blessing of the winner.
(one key lottery)
The most amazing thing is: winners can be determined! Set it in advance in the "management" function.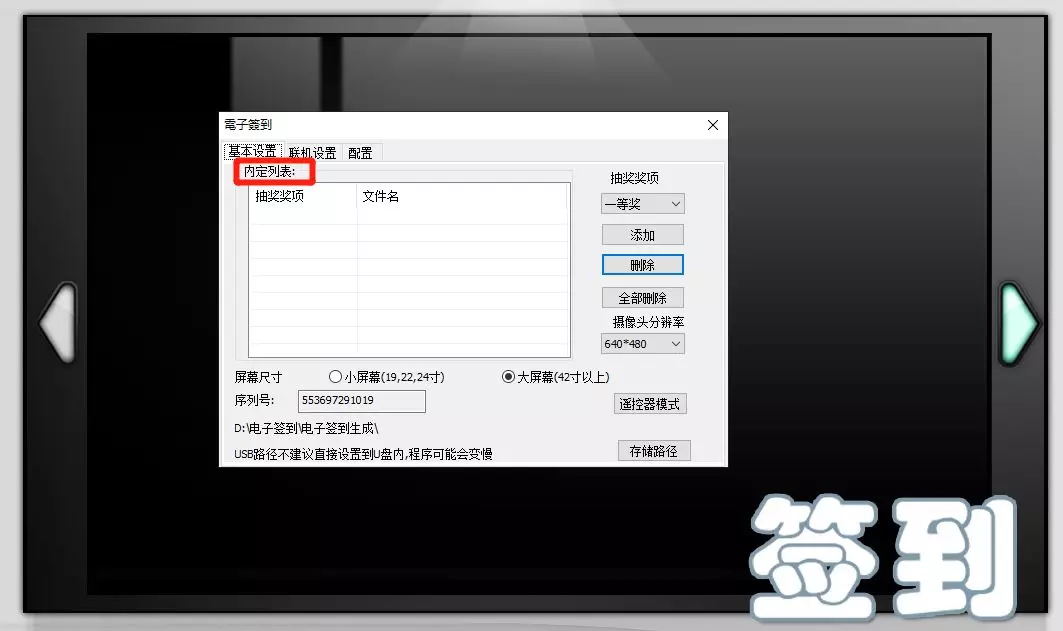 (winners are determined in the management function)
Message function is also from the home page, touch writing, so that participants have greater freedom and sense of participation.
(e-message board function)
You can also view the existing messages. Each page can display up to 6 messages. Each person's message is independent.
(view existing messages)
Many guests will treat Senke's e-check-in process as an interactive process. Taking photos, taking souvenirs and sending out friends circle are common phenomena.
For high-end medium and large-scale activities, Senke E-Sign in is a simple but not out of tune intelligent sign in method, which not only reduces the human cost for the main organizer, but also fully mobilizes the enthusiasm of the participants.