People's Hospital of Qufu City, Shandong Province cooperate with with Senke, upgrade the image
24,October,2019
Last year, shandong qufu people's hospital completed a new hospital area and joined with senke electronics to upgrade the hospital's management.
Qufu people's hospital of shandong province is a first-class general hospital integrating medical treatment, teaching, scientific research, preventive health care and first aid.
On the wall of the service desk area, several senke intelligent display terminals are mounted on the wall to display the information of the daily outpatient service of the hospital, so that the patients can conveniently inquire the location of each department at any time.
In the registration area, self-service registration terminals are used to provide convenient services such as registration, recharge and printing of reports and so on to reduce hospital manpower input and operation costs.
It adopts senke digital signage wall mounted advertising machine series.The original LG with IPS screen has a long service life, supports 7*24H*365 days of uninterrupted use, and supports continuous operation for 6 years without shut-off, which meets the high intensity of the hospital display. In addition, the 178 degree wide viewing Angle and hd display help patients understand the hospital more intuitively.Senke has provided information release platform for the people's hospital of qufu, shandong province, facilitating remote centralized and unified management of information, regularly updating the backend information of medical treatment, and quickly distributin it.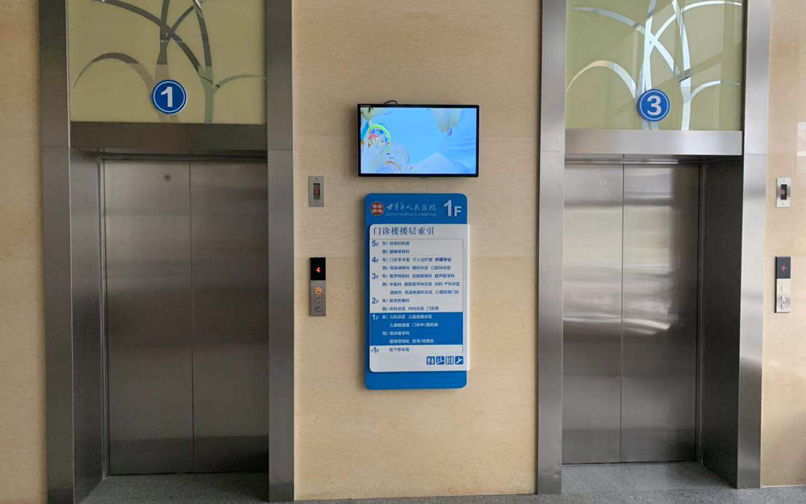 Senke elevator multimedia LCD screen is a multimedia network broadcast elevator intelligent display terminal, with powerful image and audio processing functions, support Google Android system, support mainstream video, hd 1080 video and picture format decoding.Products can be a variety of forms of information release, to achieve unified management and unified release of equipment and programs.