Digital Signage is a brand new media concept, which refers to a multi-media professional audio-visual system that releases business, finance and entertainment information through Large screen terminal display equipment in Large shopping malls, supermarkets, hotel lobbies, restaurants, cinemas and other public places where people gather.
aims to broadcast advertising information to a specific group of people in a specific physical place and a specific time period, which makes it obtain the effect of advertising.
in foreign countries, some people put it with paper media, radio, television and the Internet, called the "fifth media."
The difference between digital signage and a TV
Although the TV can also be used as a display device, the nothing method is comparable to the digital signage series in terms of color brightness, contrast, visual Angle and standby
, use of Life and information distribution.
About the color
Digital signage products have accurate color images that are clearer and brighter
LG IPS Commercial screen covers gamut sRGB 99, which can highly restore colors.Color range of 8 bit (16.7M), each color channel can be display256(2 to the eighth power =256) grey scale.
High brightness and High contrast to look and feel to upgrade, vivid.
450cd/m²

High brightness

5000:1

High contrast

sRGB 99

Color gamut
On the visual Angle
178° broad visual Angle
178°Wide Angle technology, so that every Angle of the screen can present a true and constant perfect picture quality.
Even the edges do not show any chromatic aberration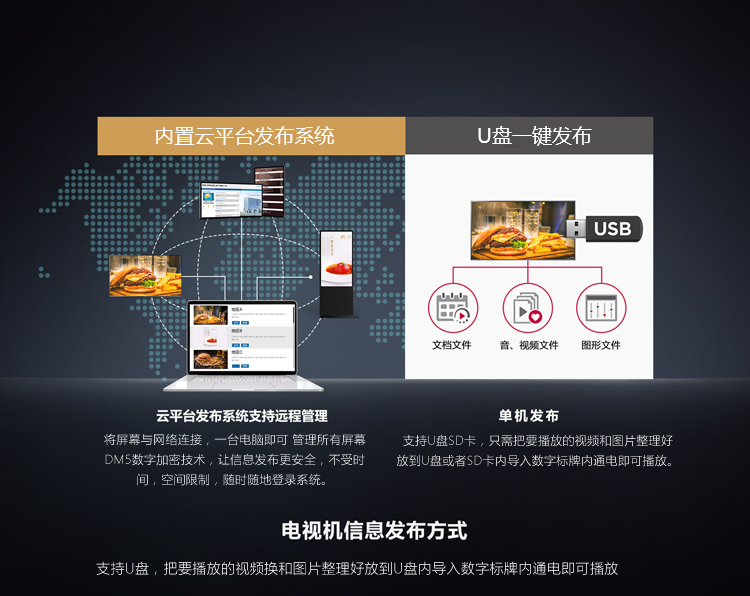 About release
Information dissemination of digital signage
GTV information release system
The smart multi-media player system is embedded in the device, and the cloud center management server is set up in the cloud to realize cloud storage of materials, cloud production of publishing content, and cloud management of terminals,
Use rs can log into the system platform anytime and anywhere for remote management, program production and release through PC and mobile terminals, and realize cross-region integration and coverage of multi-media information management.
LG original IPS highlight commercial screen advantage
IPS (in-plane Switching) technology is the most advanced liquid crystal panel technology In the world.The advantages of IPS panel are wide visual range, accurate color restoration and fast response.
nothing ordinary soft-screen LCD TV in the broadcast of dynamic screen serious "drag", "residual shadow" and other phenomena.It can work at high temperature for a long time without liquid crystal sinking.
Efficient work nothing fear liquid crystal deposition
Long-term use of liquid crystal does not sink, do not yellow, ordinary screen liquid crystal sedimentation
will make the bottom edge of the screen part display screen yellow.

sharp dynamic clearly visible
clear dynamic effect technology makes sport more smooth clear picture, resulting in the precision motion picture control to reduce the fuzzy image, and can keep High brightness.
The stability of the panel
IPS has liquid crystal quick recovery property.Therefore, no flicker occurs when the touch screen is touched.However, the VA panel used on the TV has the property that the LCD returns more slowly, so it flashes when it touches the screen.
Digital signage machine type
Digital signage products are available in a variety of models according to the application situation and function to meet various needs.
Digital signage advertising machine series

conference tablet series

Splicing screen series

Touch all-in-one series

Double-sided screen series

The elevator display series

Move somewhere you series

The bar screen series
The scene of digital signage
Large screen is used for publicity, marketing and announcement, giving visitors a strong impact and innovative effect experience, is the emerging "digital communication window",
is also the first choice for businesses from all walks of life to display their products.
Digital signage advertising machine series

Capacitive touch series

conference tablet series

ULTRA-THIN Double-sided screen brightness series

Splicing screen series

Mobile electronic water card series

The bar screen series

The elevator display series